Image: Rainer Maiores
Cloudflare's WARP mobile app for iOS or Android designed to secure all the Internet traffic on one's mobile devices is now available for everyone.
WARP works by making DNS requests faster and by automatically encrypting all unencrypted connections by default without requiring users to install an extra root certificate.
The WARP mobile app was announced on April 1 and it was expected to be rolled out until July. Since that didn't happen until today, around two million people signed up to try the app and got added to the waiting list.
"As a way of hopefully making amends, for everyone who was on the waitlist before today, we're giving 10 GB of WARP Plus — the even faster version of WARP that uses Cloudflare's Argo network — to those of you who have been patiently waiting," says Cloudflare's CEO Matthew Prince.
WARP is sort of a VPN
According to Prince, "the basic WARP service is free without bandwidth caps or limitations. The unlimited version of WARP Plus is available for a monthly subscription fee."
WARP Plus uses Cloudflare's proprietary virtual private backbone Argo tech which routes all requests to avoid all Internet traffic jams and reach higher speeds than the ones achieved by the free service, loading web assets 30% faster on average.
WARP Plus comes with a fee based on the Big Mac Index which differs by region and it is designed to approximate the price of a McDonald's Big Mac for that specific area.

Cloudflare says that WARP is designed to secure the average user's data while browsing the web, unlike a traditional virtual private network (VPN) which would also hide your IP address.
WARP functions more like a transparent proxy that sends all your connections through a server designed to redirect all your Internet requests without actually altering them in any way.
However, this is not true in all cases since, as explained by Cloudflare's Zack Bloom, the IP addresses of WARP users will only be exposed to sites that also use Cloudflare. In all other cases, the users' real IP addresses will be hidden, with the visited sites seeing an IP from one of Cloudflare's address ranges.
Focuses on privacy
WARP comes with the same privacy protections that come with Cloudflare's 1.1.1.1 public DNS resolver:
We don't write user-identifiable log data to disk;
We will never sell your browsing data or use it in any way to target you with advertising data;
Don't need to provide any personal information — not your name, phone number, or email address — in order to use WARP or WARP Plus; and
We will regularly work with outside auditors to ensure we're living up to these promises.
While WARP could, in some cases, make your Internet connection faster, it will usually allow you to browse the web and access sites at the same speeds as you're used to when the VPN is not enabled.
"Generally, in our tests, WARP is around the same speed as non-WARP connections when you're on a high performance network," said Prince.
"As network conditions get worse, WARP will often improve performance more. But your experience will depend on the particular conditions of your network.
Cloudflare's end goal is to improve the overall security of iOS and Android devices while making sure that their Internet connection is not slowed down and their batteries are not impacted in the process.
Cloudflare also published a deep dive analysis of the technical challenges faced while building WARP, with insights on how the Cloudflare network works and the difficulties encountered while developing the company's first client software.
Install the WARP app
WARP for iOS devices running iOS 10.3 or later can be installed from Apple's App Store from here and the Android version compatible with devices running Android 5.0 and up is available in Google's Play Store here.
If you have already installed the 1.1.1.1 App on your Android or iOS device, you may have to first update it to the latest version to get the option to enable Warp. Otherwise, you will be told that you are still on the waiting list.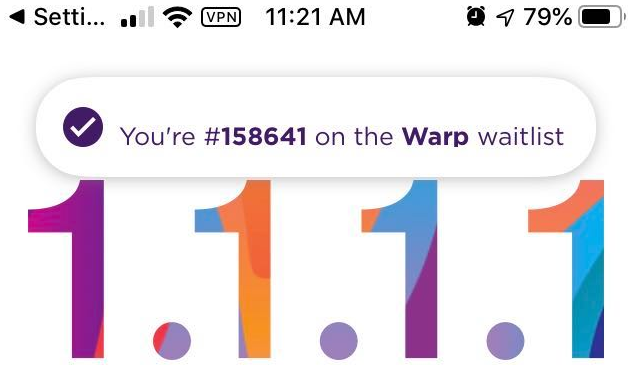 (Excerpt) Read more
Here
| 2019-09-25 20:49:48